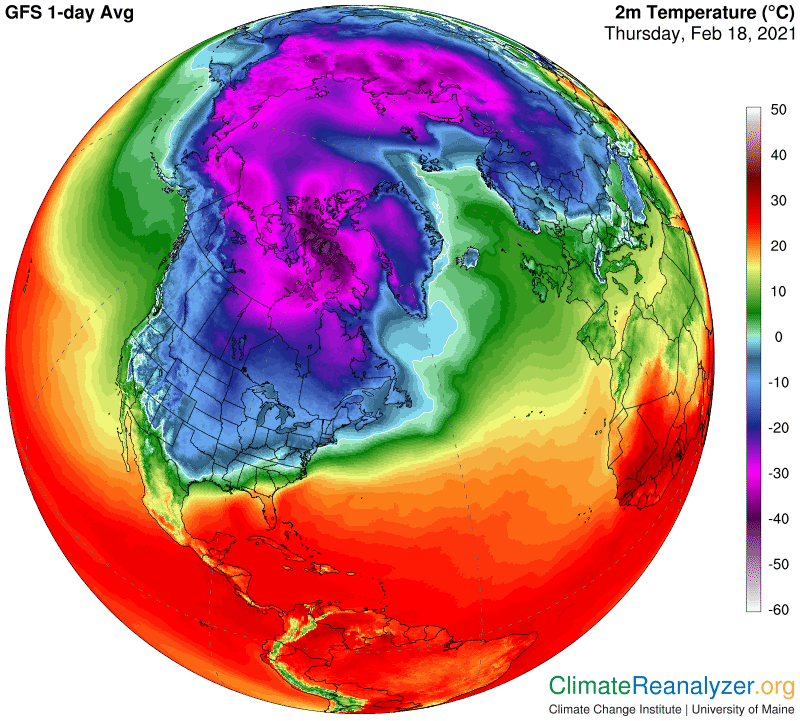 Temperatures are currently dropping big time, resulting in unprecedented snow storms across the world from Libya, Greece and Japan to the Middle East.
Snow in Libya for the first time in 15 years
The Green Mountain in northeastern Libya was veiled white this week as snow fell in the area for the first time in 15 years.
The rare flurry began on Monday and is expected to continue for at least two more days.
Worst snow storm in over a decade hits Athens, Greece
The cold front, dubbed "Medea" after the mythical Greek sorceress of the Argonauts, sent temperatures plunging.
"The last time we saw so much snow in the centre of Athens was in February 2008," said meteorologist Costas Lagouvardos.
Snow storm pummels Japan, disrupts travel
A strong winter storm has lashed northern Japan and coastal regions, whipping off roofs, flooding homes and disrupting transport.
A gust of 162km/h was recorded at Cape Erimo on Hokkaido and 135 km/h in the city of Sakata, Yamagata prefecture.
The Japan Meteorological Agency warned of "the most powerful blizzard in years," which could produce white-out conditions, for part of the island through Wednesday.
A severe blizzard battered the northern island of Hokkaido on Tuesday and a storm surge inundated homes in part of the island.
Heavy blizzard hits Istanbul, Turkey
The snowfall Istanbul is experiencing is expected to be as harsh as the winters of 1987, 2002 and 2004.
In 1987, Istanbul had one of the worst winters, where snow reached depths of 1 meter in some locations, with people stranded in their homes for days.
The Bosporus, the busiest waterway in the country that divides Istanbul in two, was closed to maritime traffic on Sunday as visibility dropped below half a nautical mile.
5 million in northern Mexico without power as winter storm in Texas freezes natural gas pipelines
Freezing weather in the US state of Texas left almost five million people in northern Mexico without power early on Monday, as a shortage of natural gas disrupted electricity production.
Mexico's government-owned utility, the Federal Electricity Commission (CFE), said on Monday its operations were interrupted as the winter storm in Texas froze natural gas pipelines.
Mexico uses gas to generate about 60 percent of its power, compared with about 40 percent in the United States, and the country built pipelines to take advantage of cheap natural gas from its northern neighbour.
A deep freeze across Texas during the weekend took a toll on the energy industry in the largest US crude-producing state, shutting oil refineries and forcing restrictions from natural gas pipeline operators.
Meanwhile, the heavy snowfall is reported across the Middle East in parts of Syria, Lebanon, Israel, Palestine, Jordan, Saudi Arabia and Egypt…
Snow is blanketing parts of Syria, Lebanon and Israel, Jordan, northern Saudi Arabia and Egypt, blocking roads, disrupting traffic and even delaying exams at some universities.
Large parts of Syria were covered with snow was as high as 15 cm (6 inches) in the mountains of Sweida province, including the capital Damascus.
Roads in some provinces were blocked. In the central province of Hama, bulldozers shoveled snow to open roads while vehicles skidded on ice, further causing traffic disruption.
The University of Damascus called off mid-term exams scheduled for Wednesday and Thursday in all its branches around Syria because of the extreme weather conditions. The country's ports remained open.
In the opposition-held northwestern Syria, civil defense teams have been building dirt mounds since Tuesday around displaced persons' camps to prevent the rain from flooding the crowded areas. Nearly 3 million displaced people live in northwestern Syria, mostly in tents and temporary shelters. Heavy rainfall last month damaged over 190 displacement sites, destroying and damaging over 10,000 tents.
In neighboring Lebanon, Storm Joyce hit late Tuesday with gale force winds registering between 85 km/h (52 miles/h) and 100 km/h (62 miles/h). The storm is expected to get stronger Thursday.
Breaking a warm spell, the storm brought heavy rainfall, a sharp drop in temperatures and the heaviest snow fall in Lebanon this year. Snow is expected to cover areas of altitudes as low as 400 meters high, according to the Meteorological department. Nearly a dozen roads in eastern and northern Lebanon were closed to traffic because of the snow.
The Israeli Meteorological Service forecast heavy thunderstorms and cold temperatures across much of the country, with snowfall at higher altitudes expected later on Wednesday, including in Jerusalem. Heavy snowfall covered the Israeli-occupied Golan Heights near the border with Syria.
If you want tome more images, this video features the ongoing snow storms across Jordan (00:00), Syria (05:09), Lebanon (06:36), Israel (07:57), Palestine (08:40), Saudi Arabia (09:42) and Egypt (10:23)